How could I have a website named after myself without a self promoting page all about me? Well, here it is…
I am married to the beautiful Naomi, have four fantastic children and we live in Coventry.
Music
I play guitar and bass, I was learning drums, and I can play keyboards a bit. I own the following instruments: Patrick Eggle Berlin Pro (Electric Guitar); Fender Stratocaster (Electric Guitar); Takamine EGS-430SC (Acoustic Guitar); Ibanez Talman TMB-100 (Bass  Guitar); Line 6 Flextone II (Guitar Amp. Not exactly an instrument, but the electric guitars would be pretty useless without it); Warwick BC-40 (Bass Amp); a bodhrán; a collection of various African drums; a kalimba. I've been playing guitar since I was about 11, and I like playing lead mostly.
I also listen to a lot of music. I like a lot of styles – almost anything except R&B, although sometimes (very rarely) I even like that. My favourite band was U2, is probably now Switchfoot, although I listen to all sorts.
Church
I'm a Christian and I go to Westwood Church.
Books
I like reading books. When I was in Kenya I was averaging nearly three books a months since I didn't have a TV or many of the other things from home to distract me! If you read my blog regularly you may occasionally see a book report there. My favourite authors include A. E. W. Mason, Arthur Ransome, Anita Shreve, Robert Harris, Sebastian Faulks and John Grisham.
Computers
You may have guessed that I enjoy playing with computers as well, from the fact that I even bothered to put this site together. However, I like to get away from them as often as possible, although this is becoming more difficult with and Android phone in my pocket.
Travel
I haven't travelled much yet, as you can see on the map below. (I could cheat and colour the whole of the USA in, but I'll colour it in one state at a time. It's more fun that way. And perhaps I should do the same for the UK, with counties?)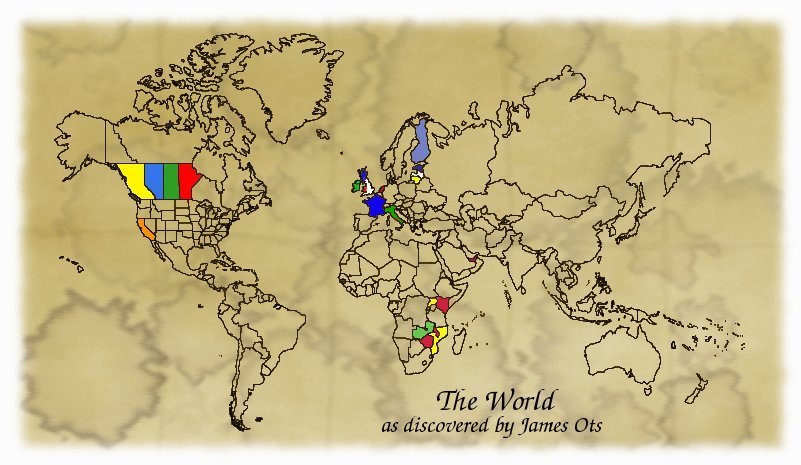 Canada

British Columbia
Alberta
Saskatchewan
Manitoba

England
Estonia
Finland
France
Ireland
Italy
Kenya
Latvia
Lithuania
Malawi
Mozambique
Netherlands
Northern Ireland
Scotland
Uganda
United Arab Emirates
United States
Vatican City
Wales
Zambia
Zimbabwe
Other
Other things I enjoy doing include painting, climbing, sailing, photography, drawing, driving, writing, travelling, cooking and many other things I've forgotten about just at the moment.