In case you're thinking my life has got more boring recently, due to the decrease in quantity of blog entries, I should explain that I'm just too busy most of the time to blog. Also, as you may know, I like to illustrate my blog entries with photos. And I keep forgetting to copy any pictures off my phone, so I don't have anything again. (Although at some point I'll probably come back to this entry and add a photo, so by the time you read this it may be illustrated.)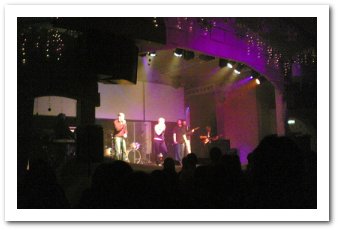 Last Friday Naomi, my sister Becky and myself went to the Nexus Christmas Concert. It was really good – consistently good quality (there's usually at least one dire song). I'm looking forward to the end of year concert in the summer, because if they're this good already, they should be amazing by then!
On Saturday the three of us went off to Birmingham to test drive cars with Becky. She went to look at a Toyota Yaris, and when we got there there was a VW Lupo next to it, so we thought we may as well test drive it as well. I was expecting to Yaris to be ok – nothing special, but ok. And it was. The seats were a bit soft, the handling wasn't great, the gearstick was a bit clunky and the trim felt cheap, but nothing worse than I was expecting. Certainly nothing as bad as the KIAs and Daihatsu's I've rented sometimes. Then I got into the Lupo. It's a smaller, cheaper can than the Yaris, so I was expecting even less. But I got a lot more. It felt like a far more expensive car. The trim inside felt much higher quality. The seats were firm and comfortable, the gearstick was well made and slotted into gear quietly and easily, and the handling was nearly as good as my Golf. In the Yaris I was slowing down a lot for corners because it felt a little uncontrollable, but in the Lupo I was double de-clutching and pulling it round corners like a hot hatch. Admittedly, it wasn't fast – it only had a one litre engine, but it was fun to drive. Becky drove it as well, and now she doesn't want a Yaris either. (In case you're thinking about buying a Yaris yourself, I should mention this was a 2003 model Yaris. I think the 2006 version might be a lot better, while VW have replaced the Lupo with the Fox, which is reportedly a lot worse.) She didn't buy it though, because it was the first Lupo we'd looked at, so we had nothing to compare it with. And now we've heard that the one litre engine is pretty bad at motorway driving so we're looking for 1.4s instead.
Yesterday we went to the pub quiz at the Chestnut Tree. We've been going there for the last few weeks, and I enjoy it a lot. I used to go regularly a few years ago, but then people started playing football instead, so we stopped going. Then three weeks ago Chris invited us along, and it was exactly the same as it used to be. Except for the pub being a lot less full, and I don't know why. Anyway, we've been doing consistenly okay – generally coming third. Although yesterday we only came fourth. I'll have to start reading the news so that we can do better on the news round.
Tonight we have homegroup, and on Thursday we have my work Christmas dinner, and on Saturday One Nation are playing in Leamington, and I'm sure there are some things I forgot to put in my diary. But if there aren't, I might actually get a few minutes to post some photos on here.