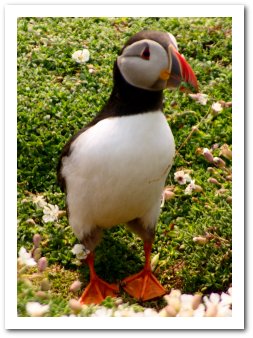 Naomi and I have just got back from our long weekend in Pembrokeshire. One of the main reasons we went there (rather than Cornwall, which was our other idea) was so that Naomi could see Puffins. Well, so that we could both see them, but Naomi had mentioned before that she wanted to see them. So we drove over to Wales on Saturday, found our B&B and then drove up to the northern part of the National Park and saw a seal near a lighthouse, and looked for whales but didn't see any.
On Sunday we took a boat over to Skomer Island, which is where twenty thousand puffins nest. In burrows. There are also ten thousand rabbits and their burrows, and several thousand Manx Shearwaters, which also live in burrows. So we were given strict instructions not to leave the paths, because pretty much the whole island was covered with burrows, and we might squash a bird or rabbit otherwise.
We walked all round the island without seeing much other than seagulls, but eventually the puffins decided to make an appearance. They're really cool, and they're short and fat with short fat wings and short legs and they waddle around, and when they land on the sea they just stop flying and cannonball into the water from a foot or two up.
Today we explored the antique shops of Haverfordwest before driving home via Aberystwyth. We stopped in an antique shop in another town where they had some really cool stuff, including several ship's lanterns, nautical compasses and a sextant. But they were unfortunately all too expensive, otherwise I would have bought the lot.
We got back in time for the pub quiz, but everyone else was either ill or on holiday, so we finished in an unimpressive last place, and now I have to go to bed so I can get up in time for work again tomorrow.