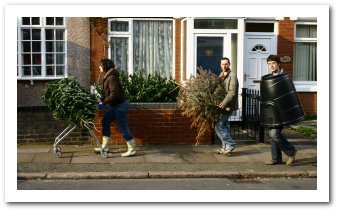 Christmas is over for another year. Ok, so it was over quite a long time ago, but we finally got round to getting rid of the tree yesterday. It had been sitting in our front garden since Christmas, going brown, and waiting for us to take it to Chris and Helen's allotment to burn it. And yesterday we finally got round to it. In the picture you can see Helen with their tree in a shopping trolley, Chris with our tree, and me wearing a composter. Well, it was the easiest way to carry it.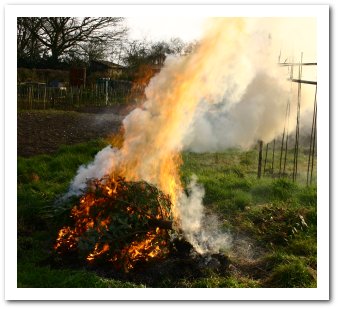 Once we got to the allotment, we found a clear bit of ground, piled up some dry grass under our tree and set light to it. It flared up pretty quickly, so we then threw the other tree on top. Their tree was still quite green, and the sap in the needles made it burn really fast – the whole thing was over in less than a minute.
When I say the whole thing was over, I mean all the needles had burnt off the trees. The rest of them were just blackened. So then we had to saw them up (using a blunt saw we found in the shed) and build a proper bonfire. When we left the allotment, we piles earth over it, to see whether it would keep it burning all night – like they did in Swallows and Amazons. I don't know if it did or not, but Naomi might go down and look today.
In far more important news, my sister Liz got married on Saturday. They both said 'I do', so it was a successful wedding. There were quite a lot of people there whom I hadn't seen for about ten years, so it was strange to see them 'all grown up' now!